LAUGH IT OUT 4 GOD SAKE HOLDS IN GRAVESEND KENT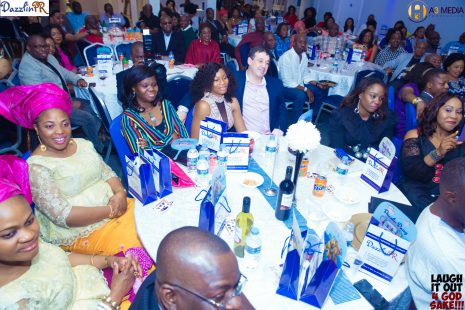 A night of too many Stars and beautiful faces; London and Kent came together for the maiden edition of a dazzling comedy show for the family which would now be a yearly show.
The event was collaboration between Comedy and music; lot of celebrities showed up, performance from top UK comedians, Akpos the comedian and Fumbi the comedian who cracked up the place with their second to none jokes followed by a guest comedian from Nigeria, SACO (Senior Advocate Of Comedy), he turned loose on the stage and people couldn't stop laughing. The show went on with more performances from London based dance group, the Afrika dancers and Tosyn also treated the audience with his velvet voice, he rendered two hot tracks from his new album. Mc Mark took to the stage immediately after and his jokes were well delivered. The main act of the day 'Mama D' no one could ever believe 'Mama D' is the same London city entrepreneur lady, she's a gift to her generation, Daizy 'Fini a.k.a Dazzlin Daizy, the innovative director at DazzlinPR, and Director at Dazzlin Daizy Group of companies, she hosted the show and acted Mama D, and it was nothing from this world! The show came to an end with the duo' celebrities djs Kashif Da Flash and Dj Shy Shy Shyllon got people swayed to various Afrobeats mixes rendered by the duo.
LAUGH IT OUT 4 GOD SAKE!!! was sponsored and supported by Dazzlin Daizy Cosmetics & Hair, CITY PEOPLE MAGAZINE, Haven Homes, Sanctuary Of Praise Ministries, A3 MEDIA, TASTY AFRICAN RESTAURANT, DBM CROCKERY & TABLEWARE, ARTBOUTIQUE, SOKSES JEWELRY and ELEGANZE PARTY SOLUTIONS, Winner Cash & Carry, Bustine Media, Reloaded Media,Olamint Photography, Bambino Photos and Tam Tom Party Services, Flavouz. Sponsors said, "the show was very unique and has a great of what it takes to grow bigger!" And they all promised to partner with DazzlinPR for the 2015 edition.
The innovative director of DazzlinPR, Daizy 'Fini said this is just the beginning of great things DazzlinPr team have started working on; she said the next one will be even bigger than this and she thanks everyone who came and supported the DazzlinPr vision right from the beginning and she promise she will never let her fans and supporter down in anyway.
For More Information About The Event, Contact Us On 07958 101 192 or E-mail dazzlinpr@gmail.com