GURLS LINK UP OCTOBER EDITION 23RD OCTOBER '22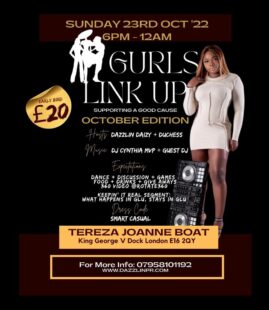 Get ready to reunite with your crew and get linked up with official Gurls Link Up event. Dust off your heels, your best "going out" top, and grab a ticket or two for the chicest event for a good ol' Gurls Link Up' Evening. God knows we need one ?
Gurls just want to have fun, right? Round up the troops—we've created these kick-ass #GurlsLinkUP' event itineraries.
So, Get ready for the BEST GURLS EVENING EVER! Whether you're celebrating a Birthday, Bachelorette Party, Dirty Thirty or your Sheer Awesome Self; You will meet your party match with "GURLS LINK UP EVENT"! #GurlsLinkUp #EventForLadies #NetworkingEvent #FunNight #GoodMusic
FOR MORE INFO, SUPPORT and SPONSORSHIP,
E-mail Dazzlinpr@gmail.com Or WhatsApp +447958 101192
https://www.eventbrite.co.uk/e/gurls-link-up-tickets-348883799837