The SHOWCASE EXPO and ENTERTAINMENT (The SEE) *General Business Exhibition*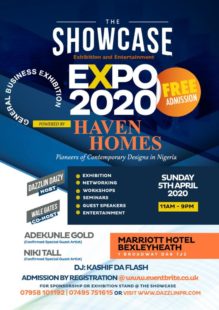 The SHOWCASE EXPO and ENTERTAINMENT (The SEE) General Business Exhibition Powered by HAVEN HOMES @thehavenhomes … Pioneers of Contemporary Designs in Nigeria!
THE SEE is a FREE one-day event to attend for Big and small businesses to network, build new business relationships, participate in cutting-edge and business-building workshops/seminars, exchange ideas, shop for things you like, find new Vendors for events, and learn from leading industry and business experts. If you are serious about starting or growing your business, The SHOWCASE Expo is a "MUST ATTEND" event for you. The SEE is number 1 Business to Business Networking Event and Entertainment dedicated to helping Small Business Owners take their business to the next level for Africans living in the UK.
WHAT IS THE COST TO ATTEND?
It's FREE TO ATTEND for All BY REGISTRATION ONLY!
For Sponsorship or Exhibition Stands, please call us at 07958 101192/ 07495 751615 or visit www.dazzlinPr.com
WHY ATTEND? ~ Network with other businesses, entrepreneurs & start-ups ~ 25+ Business, workshops & seminars to help your business grow ~ Fast-paced speed-networking sessions to make new contacts quickly ~ Learn about new cutting-edge products and services ~ Establish new & valuable contacts
~ Interact with the Big business owners, movers and shakers of your industry. ~ Leave the show with a wide array of qualified and targeted sales leads ~ Entertainments, Fashion Show, Performances
Live DeeJay playing light music while you are networking and exchanging contacts.
Host: DAZZLIN DAIZY
Co.Host: WALE GATES
Special Guest Artists—–>
ADEKUNLE GOLD (Nigeria)
NIKI TALL 'Oyinbo Boy' (Germany)
DJ: KASHIF DA FLASH .
Special Guest Artists: .
ADEKUNLE GOLD (Nigeria)
NIKI TALL 'Oyinbo Boy' (Germany)
The Showcase Expo is the perfect place for you to come learn how to start & grow your own business. We have FREE workshops & seminars about building your own business, an exhibitor hall with great products/services to help you, speed networking & more! Whether you are already an established business, a start-up, a Young aspiring entrepreneur or anything in between, The SEE is for you!